EssayJedii.com
http://essayjedii.com/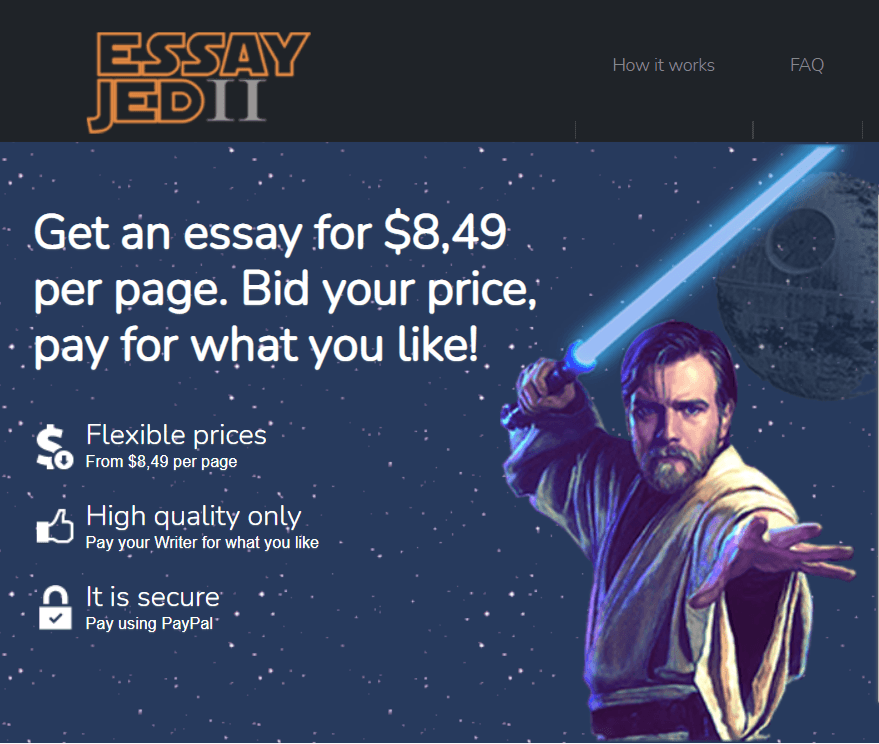 Pricing

6.6

Support

3.6

Quality

5.0

Delivery

6.5

Usability

6.7
Extra Features:
Support:

24/7/365

Additional Features:

Prices start with $12.00

Money back guarantee

100% Privacy

MA/MS and Ph.D writers

Payment Methods:

VISA

Maestro

Master Card

Quality:

All Formats
EssayJedii.com Review
This EssayJedii.com review is provided so that customers who are looking for premier and reputable online writing services can have a better understanding of what is offered and what they can expect from a specific writing company. Below are the results of a thorough investigation based upon Essay Jedii reviews on websites, social media and the site itself.
General Information
Essay Jedii features include a relative clean website, without a lot of clutter, very straightforward statements of what they offer, and an overall site that is easy to navigate.
There are not a lot of links to detailed information about the company, but, rather, two policies, a short FAQ link, a few footer pages related to the writing the site offers, a spot to begin live chat with the company, and a "Contact Us" link.
The company relies fully on email and messaging systems and does not publish a contact telephone number or a physical address.
The Ordering Process
Customers place orders via an order form that is visible on every page. Required information includes an email address, the type of writing requested, the length, and the deadline date. From the customer is taken to a page where more detail can be inserted, such as the selection of the level of degree of the writer desired.
Additional Essay Jedii alternative options include paying extra for top queue placement, for a company staff member to monitor the production process, and for an editor to provide a quality control review and edit prior to delivering the final product. While certainly these Essay Jedii benefits are desirable, the costs are quite costly and will add a significant amount to the total cost.
Once the order form is submitted, the customer is taken to a page where bids from writers will begin to show up. The customer is allowed to open up live chat with the writers who submit bids, in order to glean more information about the writer's qualifications and background in the topic of the ordered writing.
The Production Process
While a customer order is being fulfilled, the communication that occurs is strictly between the customer and the writer. Communication with the company itself is only for difficulties with order form submission, technical issues, and problems with payment processes.
Once the product is completed, the customer has the opportunity to review it and ask the writer for changes. These negotiations are strictly between customer and writer without company intervention if agreement cannot be reached. Because Essay Jedii testimonials are published on the site with comments about specific writers, there is some pressure perhaps on the writer to be as accommodating as possible.
Quality and Reliability Feedback
On sites outside of the company itself, Essay Jedii ratings are somewhat mixed. While most customers state that the quality of writing is good, there is concern about plagiarism, and the company does not provide any safeguards against this. It is up to the customer to run plagiarism scans on delivered writing products.
Customers report that deadlines are consistently honored.
It is difficult to assess reliability, because the company is so very new, and long-term feedback is not yet available.
Customers also report that their information and their use of the writing service appears to remain confidential. They do not provide any personal information other than an email address.
Pricing
EssayJedii.com prices may shock the new customer. While the landing page advertises prices as low as $7.50 per page, this is not translated into real pricing of bids. The cheapest pricing found for a bid on a two-page basic essay was $16.15 per page, and that included none of the additional features which would have added significant cost to the product.
Payments are made securely through credit cards or PayPal.
The company does not offer a discount program, as is frequently found with other writing companies that have been in business longer.
Closing Comments
Thus far, overall consumer experience has been satisfactory, although pricing is a concern for students who are on tight budgets.
The lack of an address, phone number, and a link that provides detailed information about the company may cause suspicion on the part of some consumers.
1 Customer Reviews of "EssayJedii.com"
Pricing

Support

Quality

Delivery

Usability
Connie
commented
EssayJedii.com
I feel lack of feedback on this service here. Thus the guarantees of good service are poor. You might get lucky on a ;ow price, but the key word here is MIGHT!
The service they provide if really mediocre. There are better companies out there.

Happy I've found this service! The papers are of a high quality and their writers never fail to meet the deadlines!

The paper is awful! I can't even use it as a draft.
View ALL comments