EssayShark.com
https://essayshark.com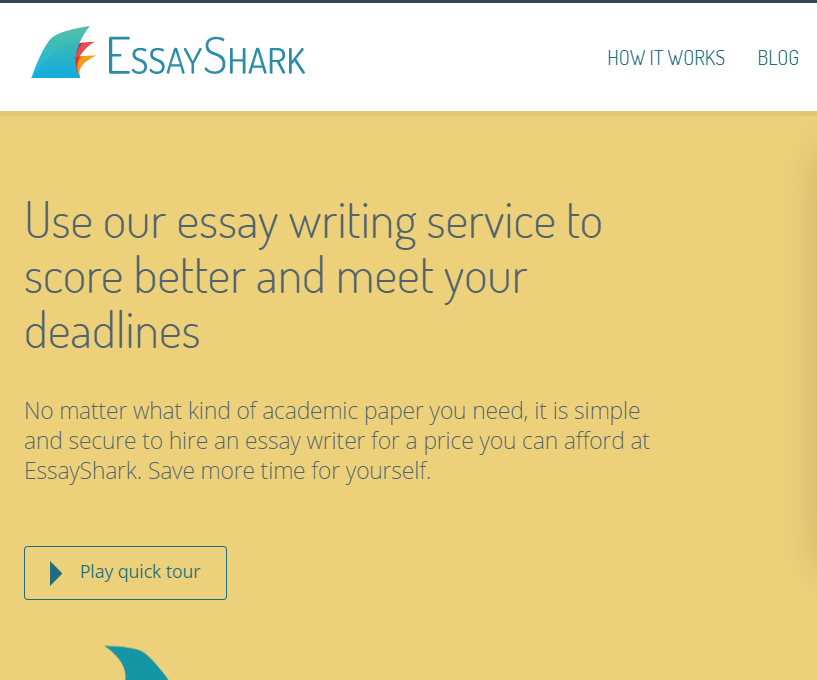 Pricing

6.2

Support

6.8

Quality

5.9

Delivery

7.3

Usability

5.4
Extra Features:
Support:

2-hours delivery option

24/7/365

Additional Features:

Prices start with $16.70

FREE Revisions

Money back guarantee

Plagiarism Check

100% Privacy

Free Amendments

PowerPoint Presentations

MA/MS and Ph.D writers

Direct contact with the writer

Payment Methods:

VISA

Maestro

Master Card

Quality:

4 years of expirience

All Subject Areas

All Formats

Single/Double spaced papers
Fortunately, in today's digital age, consumers have many options to comment on and review products and services that are offered via the Internet. They may post comments on any number of social media sites; they may access website review services and give feedback on companies' products and/or services. In the case of writing services, students in particular can post reviews on a number of sites that are operated by students for students. This is important, because when consumers decide to utilize a writing service, they do want to conduct some research on the company they are considering.
It is the purpose of this document to review EssayShark.com, a writing service that serves students at various academic levels. Information for this review was gathered by visiting the website and navigating through all of its links, by looking at Essay Shark testimonials published on its site, and by gathering any comments, reviews, and feedback from sources throughout the web. What follows is a comprehensive review of all of the information that has been found.
Essay Shark Features
Types of Writing: The focus of this writing service is obviously academic – essays, papers, presentations, book/movie reviews, admissions essays, theses, and dissertations. The company serves students from secondary through graduate school levels.
Writers: While the site does not speak to the academic and writing backgrounds of its writers, the customer can access individual writer information and learn in what content fields that writer works, the number of completed projects by that writer, and other information, including specific award levels achieved within the company. Writers are free to bid on customer orders within their writing fields, should the customer decide to open the project for bids. Otherwise, the company assigns a writer.
Essay Shark Benefits: One of the benefits which all Essay Shark reviews included was the ability to have communication with the writers as an order was being completed. Other comments included the ability to pay by means of credit and debit cards, e-checks, or PayPal and the fact that payment methods are secure.
Customer Protections/Service
Customer Essay Shark ratings in the area of confidentiality of use are high. There are no reported breaches of personal information being shared with or distributed to others.
There does not appear to be a customer service center per se, although a customer can contact the company by phone or email, in order to ask questions. The bulk of communication occurs between customer and writer, through an online live chat method. Should a customer be dis-satisfied with a finished piece of writing, s/he takes it up with the writer, not the company. It is the writer's responsibility to "make it right."
EssayShark.com Prices
It is difficult to know exactly what a price will be for a specific order, unless the customer chooses the option of having the company select a writer. In these cases, the price is provided once the order details are submitted. The EssayShark.com alternative to pricing is to allow one's order to go out for bids among all of the writers who are affiliated with the company. Essay Shark reviews point out that, if a customer's main concern is price, the bid process is probably the better option. Once a bid is accepted, the company adds a service fee and the customer then provides payment information. Payment is actually not debited until the customer has taken delivery of the piece.
As a whole, the company option results in prices that are relatively high in comparison with other writing services for the same type of order. And the company does not offer discounts to its customers, as many other services do.
Summation
All in all, EssayShark.com appears to be a reputable service in the area of academic writing, although writer qualifications are a bit hazy and prices can be high.
1 Customer Reviews of "EssayShark.com"
Pricing

Support

Quality

Delivery

Usability
Fay
commented
EssayShark.com
Writing has never been an easy thing to deal with for starters. And these guys manage to add up to the trouble. Firstly, they never finish on time and argue about it on the phone. The quality is apparently below the middle school level and they present is as your own fault!
The service they provide if really mediocre. There are better companies out there.

Happy I've found this service! The papers are of a high quality and their writers never fail to meet the deadlines!

The paper is awful! I can't even use it as a draft.
View ALL comments