WriteMyEssayOnline.com
http://www.writemyessayonline.com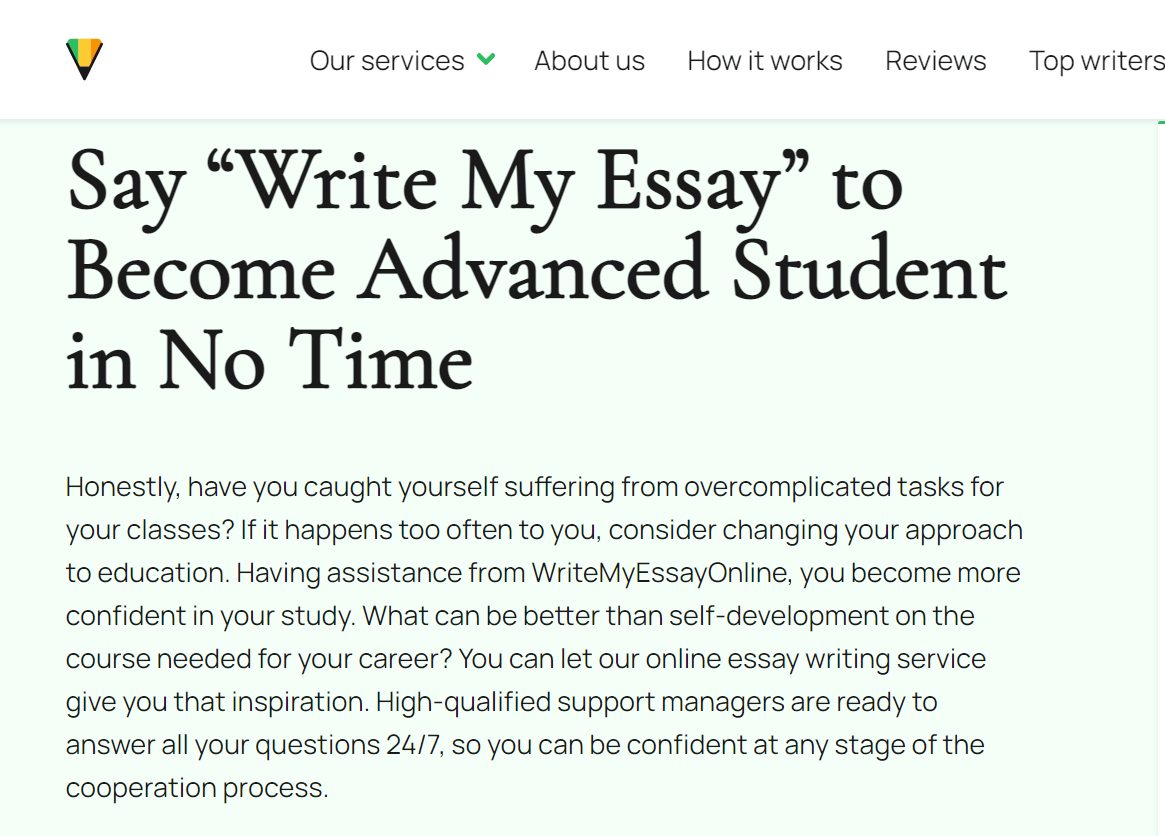 Pricing

5.0

Support

5.6

Quality

6.0

Delivery

6.0

Usability

5.1
Extra Features:
Support:

2-hours delivery option

Additional Features:

Prices start with $16.70

Money back guarantee

Payment Methods:

VISA

Discover

American Express

Master Card

Quality:

8 years of expirience
This WriteMyEssayOnline review has been prepared in order to inform consumers of the products and services, quality of writing, and customer service offered by this online writing service. In order to provide the consumer with an objective, thorough report on this company, our review includes information that we have accumulated from the company website, from WriteMyEssayOnline testimonials found on the website, from reviews and comments about the company that have been found elsewhere on social media and review sites, and from our own experience in ordering and receiving a research paper.
Products and Services Offered
Write My Essay Online has been in business for 7 years, according to its website. It offers essays, papers, and all other types of academic writing. It does not designate on its site whether it serves students at all academic levels, although we are assuming that it does. In its list of offered products is dissertations, so evidently they do serve students through Ph.D. programs.
Tis writing service operates a bit differently than most. It is more of a clearinghouse than a company that is intimately involved in the production process of writing products. When a student places an order for a product, s/he completes an order form on the site and submits it. Then that student will receive bids from writers who wish to complete that order and select a writer. This raises some concern, especially if a student is unfamiliar with any of the writers who are bidding. The company is not involved in the writer selection process at all, and, once a writer is selected, it is up to the student and writer to complete the contracted agreement. The company collects the fee, takes its cut and sends the rest off to the writer.
There is a customer service department that is available for questions, concerns and complaints.
Security and Confidence
There are both Write My Essay Online pros and cons relative to this category of our review.
From WriteMyEssayOnline.com customer reviews both on an off-site, the company does in fact have freelance writers who operate under its name, and these writers do bid and produce writing products for customers. For the most part, customers state that they receive what they have ordered within the timeframe of their specifications. We ordered and received a research paper within our deadline parameters as well. We can therefore conclude that Write My Essay Online is not a fraud.
On the "con" side, we would have to report these things.
· The "footer" pages that describe in detail the company services are very poorly written, containing many grammatical and usage errors – as if they were written by foreigners for whom English is a second language.
· The company boasts hundreds of expert and qualified writers. However, when we accessed the "About Our Writers" page, and used the drop-down menu to select specific academic subjects, the same 50 writers kept popping up for each subject field. It is difficult to imagine that the same writer would be expert enough to produce research works in physics, political science and English literature. Evidently, the company does not place restrictions on writer bidding based upon academic qualifications and backgrounds. And in each case, from among those 50 writers, only 3-4 were online and available to bid. Others were listed as "offline" or "away."
· There is no method of contacting the customer service department except by email – no phone number and no live chat feature. This is an additional cause for concern.
· The paper we ordered was a college level research work of 8 pages with 4 resources. The paper we received met those criteria, but, again, we found a number of composition errors and could not find one of the resources that had been utilized.
Overall, our Write My Essay Online rating is "Fair."
Prices and Discounts
Because of this business model, there are no set Write My Essay Online Prices. We took one of the lower bids for the paper we ordered and paid $160.00. There are no WriteMyEssayOnline.com discounts for new or returning customers. And, obviously because of the business model, there were also no Write My Essay Online coupon codes for special pricing offers, nor was there any mention anywhere on the site that Write My Essay Online promo codes are ever provided.
Payment is made via major credit cards once a customer has accepted a writer's bid. Payment processes are secure.
Other Perks and Benefits
The company states that revisions will be completed if requested. Other than that, there are no other perks or benefits provided.
Final Thoughts
WriteMyEssayOnline.com BBB membership offers a sense of security to the customer. However, there are certainly concerns over this business model and the absence of company control over which writers may bid on projects – it almost seems to be a "free-for-all."
1 Customer Reviews of "WriteMyEssayOnline.com"
Pricing

Support

Quality

Delivery

Usability
Poppy
commented
WriteMyEssayOnline.com
This is not the best choice if you need help with your essay. They are not very accurate at writing, missing out in some key points from the requirements. It seems they forget that they are paid for the job.
The service they provide if really mediocre. There are better companies out there.

Happy I've found this service! The papers are of a high quality and their writers never fail to meet the deadlines!

The paper is awful! I can't even use it as a draft.
View ALL comments